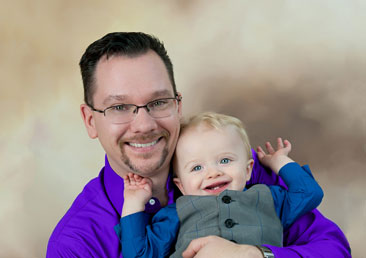 Dr. Keith Hosmer says he did not choose chiropractic for his career; rather, chiropractic chose him. When he was only 16 years old, he developed debilitating stomach pains that left him bed-ridden. He was prescribed drugs by his family medical doctor, but after weeks without improvement, he ended up in the hospital and was diagnosed with stomach ulcers.
Shortly after this unpleasant hospital testing, young Keith went to see his dad's chiropractor. After a chiropractic examination and treatment, all of his stomach pain was gone. He said, "I couldn't believe it. No drugs, no injections, no surgery! Just a spinal adjustment was all I needed. I was so impressed that I began to research chiropractic and knew in my heart that this is what I wanted to do."
Dr. Hosmer studied at Palmer College of Chiropractic in Davenport, IA, and graduated cum laude in 1996. He excelled in his studies and was on the President's List for Academic Achievement.
Today Dr. Hosmer has a thriving chiropractic practice in Buffalo, NY, where he brings his passion for natural, patient-centered care to his community. He is always willing to go that extra step to help his patients, including working with other health-care professionals. He specializes in managing disc conditions and providing chiropractic care for post-surgical patients. He also has many pediatric patients, including infants, with disorders such as stomach reflux (GERD), ear infections, and torticollus (wry neck).
Dr. Hosmer's philosophy is, "The more tools you have in your bag, the more problems you can fix." He uses numerous methods in his practice, including Gonstead, diversified, activator methods, Thompson drop technique, and Cox lumbar-flexion-distraction-disc-decompression. Additionally, Hosmer Family Chiropractic is equipped to treat patients with low-volt electric muscle stimulation, ultrasound therapy, heat and ice therapy, intersegmental traction, massage, and a hydromassage table with Jacuzzi jets.
When not at the office, Dr. Hosmer enjoys spending time in the Buffalo community with his wife and young son and daughter. He also serves as a Diplomat of the American Board of Disability Analysts. In 20 years of practice, he has not called in sick a single day. He loves his work helping people, using what he refers to as "the art, philosophy, and science" of chiropractic.